So, it has been a few weeks since I made the giant leap to leave my job and become self employed and I wanted to document what I have been doing towards the new business and what my concerns are around going it alone.
First things first, here is what I have done so far to set up the new business:
1 - Set up a bank account.
2 - Continued to save every penny possible from my wages so that I don't have to get a bank loan.
3 - Registered as a Sole Trader with HMRC.
4 - Registered and bought the domain www.knitit-hookit-craftit.com and a couple of other site names for future business ideas.
5 - Created the twitter handles for @KnitItHookIt and the other business ideas.
6 - Investigated some of the suppliers and manufacturers that I want to use.
7 - Bought a decent laptop - a Surface Pro, because that is what I am used to working on.
8 - Investigated accounts packages and started using free trials to assess which may work best for me.
All of the above took quite a bit of brain space given that I still run a household, have a reasonably demanding full time job and have quite a few other commitments including running a local knitting group.
My conclusion is that because I want to leave my job in good working order and don't want to frazzle myself out, I should leave it at that for Knit It - Hook It - Craft It until I finish work on the 31st December. So, on the 4th January 2016 I need to be focused and ready to hit the ground running.
Onto my concerns. I am quite a sociable person and really like having a team around me. If you don't count our cat Robinson aka Head of Morale and my mannequin Claude then it is just going to be me myself and I for quite some time...
On the upside I have started listening to craft related podcasts (Pom Pom Quarterly's and KnitFM's so far) and it is quite nice to have the same people talking about similar interests in a chatty manner. It turns out that there are quite a few out there and so craft podcasters may unknowingly form part of my new team. I also suspect that I will end up doing more in Twitter, Instagram and Pintrest because the craft community in the UK is very spread out and many of them use social media as a way of keeping in touch.
Another concern is that I have always earned money and from the age of 13 I have been pretty much self sufficient. When I chose to move to self employment I also chose to step away from a monthly pay packet and that is scary. I am fortunate that my husband works and so we can afford to live without my wage for a period of time. The issue is less financial and more psychological. I like to earn my own money.
The only solution to this that I can see is to work really bloody hard and make the right decisions from the start. I can control those bits.
I mentioned above that I have been saving up for quite some time to ensure that I have start-up money sat in the business account. I don't know if it is going to be enough and I won't know that until I get me teeth into the business in 2016. Not a lot I can do about that until I can properly assess what the reaction is to the products that I will sell/manufacture.
Right now, I don't think that my concerns are too daunting. I still feel like I have made the right decision. I still want to be my own boss and bring something new to the table.
I mentioned my husband. His name is Matthew and apart form being very good at business, he is also an extremely decent human and a great partner. He is very supportive of my new venture and will offer whatever help he can give.
So here is the confirmation bit. You may have noticed, hard not to really, the fashion for men to have massive beards that generally look like they have a swarm of bees on their chins. Matthew was on the tube the other day and was standing across from a man with a swarm of bees for a chin and thought how weird it was that beards had come back into fashion.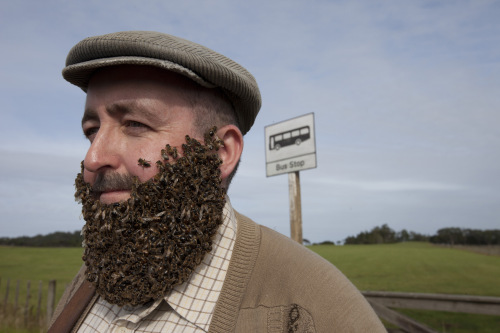 I don't think I need to say more!
He looked up and down the carriage to see how many other bee keepers there were but he was surprised to find that Bee Keeper No. 1 was the only one. He was even more surprised to see that there was 100% more knitters in that one carriage than beekeepers! Yay for starting a craft business rather than a male grooming parlour.